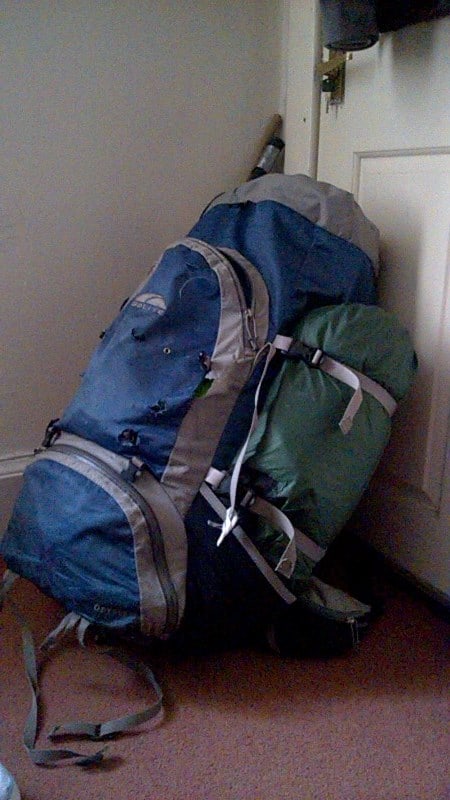 Even in summer it can be bitterly cold and wet and even snow on the mountains of Scotland. I remember one August a number of years ago when the plateau of Beinn a Bhuird in the Cairngorms turned white. Down in the glen we basked in the warm sunshine warm jackets and gloves confined to our rucksacks. The contrast between summit and valley temperatures never ceases to amaze me.
These are the things that i carry in my rucksack for a day walk and camping trip :
Map in a waterproof case and my trusty compass.
Waterproof Jacket & Trousers
Spare Fleece I also carry a down jacket cause i really feel the cold.
Hat and Gloves Spare gloves are quite useful if you run cold like me.
Bivi Bag/Survival Bag This is a big super tough, plastic bag that you can use in an emergency for shelter. It also comes in orange to attract attention.
First Aid Kit and Whistle
Head Torch/Torch You never know when you might end up walking in the dark!
A flask of coffee. A warm drink is good for the soul and where better to have a cup of your favourite brew than a mountain top!
Lunch: Bring a sandwich and things you like snacking on to eat during the day. Pack a little extra just in case you are hungrier than imagined. A rubbish bag for any litter or food scraps is useful.
Water/Juice
Boots should be sturdy and support your ankles. If they are waterproof it is a bonus!
The clothes you wear can also affect your wellbeing on the mountain. For example i would never wear jeans as they hold water like crazy becoming heavy in the wet and cooling your body rapidly. I used to wear polyester running trousers and they did quite well the material drying quickly when they did get wet in the wind and sun. A football top or something of similar material would also suffice as a base layer. When i go camping i always carry spare trousers t shirt and socks.
Some basic stuff is required for camping like a tent, sleeping bag and insulated mat to sleep on. A stove is great for preparing your evening meal and hot drinks. I use gas as i like the fact you can control the heat quite well and it is clean to use. The only flaw in my stove is that it can be unstable on bumpy ground with a full pan on it. It is also worth remembering that rucksacks are not waterproof and essentials you need to keep dry like sleeping bags and spare clothes should either be placed in a dry waterproof bag or in a black bin bag inside your sack.
And last but not to be forgotten a camera.Happy packing:)