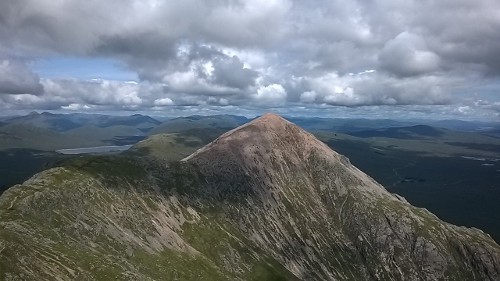 Guided Munro Bagging
Book a guided walking holiday in Scotland for you and your social bubble.The mountains are an ideal way to escape the crowds.
This is a challenging guided walking holiday on some of the highest mountains in the UK. We will spend a week bagging Munro's from a base in Fort William,the Outdoor Capital of the UK.
As the walking trip will just be you and your group we will try to fit in as many tops as possible.
The week will be tough and your legs will hurt, but you will get to stand on remote mountains,visit some of the most breathtaking places in Lochaber and Glencoe. There will be 4 days of Guided Munro Bagging with a free day midweek to rest our weary legs.
Its a great introductory week for a guided walking holiday. We will visit the iconic destination of Glencoe to climb Buachaille Etive Beag. Steeped in history its magical and atmospheric no matter the weather.
We will take a ride on the gondola at Nevis Range a brilliant start to any day as we climb upwards to our mountains for the day.
A rest day to explore Fort William or just to read a book will prepare you for the last 2 days of our guided Munro Bagging trip together.
We will spend our 3rd day walking together in Glen Nevis climbing Stob Ban or white peak in Gaelic.
Our last day together will have us heading back to Glencoe and climbing the most photographed mountain in Scotland Buachaille Etive Mor. A stellar finale to your guided walking holiday in Scotland.
Day 1
Buachaille Etive Beag
Walk to the summit of Buachaille Etive Beag. This is a great introduction to the mountains of Glencoe. The walk is on mostly good paths.Its a fantastic ridge walk and the views down Glen Etive and Loch Etive are tremendous. We will also have the the option of bagging 2 Munros!
Day 2
Aonach Mor and Aonach Beag
Our second day will begin with a trip in Scotland's only mountain gondola at Nevis Range. Our route will take us onto the summit plateau of Aonach Mor. We will then descend to a col before ascending Aonach Beag. The views at this part of the walk are my favourite as we look into the wild hinterlands of the corries between the two mountains. The views to neighbouring Ben Nevis are not bad either!
Day 3
Rest Day This will be a rest day to give the legs a wee rest before our trip to Glen Nevis and on the last day Glencoe. Fort William has a wide range of places to visit or other activities to do on your rest day. I am more than happy to provide some recommendations.

Day 4
Stob Ban
Stob Ban in Glen Nevis is a great introduction to the Mamores. There will also be the option to include the Munro of Mullach Nan Coirean if legs and conditions allow.

Day 5
Buachaille Etive Mor
We will finish the week of with an ascent of one of Scotland's most iconic mountains. This mountain dominates the view on your arrival in Glencoe from the south on the A82.Its pyramidal shape seemingly impregnable. We will ascend from the Devil's Staircase passing the mountaineering hut at Lagangarbh. The way up is steep and rocky in places with some easy scrambling(using your hands) at times. Once the corrie lip is reached the difficulties subside as the views start to open up for our final push to the summit. The route to the summit is easy from here. On reaching the summit the view of Rannoch Moor below with its lochs glittering and sparkling in the sunlight will finish off your guided walking holiday in a way you will never forget.
The price does not include accommodation.

For groups larger than 4 people please get in touch to discuss prices

Booking will be confirmed via email(if booking less than 48hrs in advance please call)
Coronavirus Precautions And Information
All trips will be subject to the government rules in place at the time of your holiday.
We will have to cancel or reschedule our trip if you are coming from a higher tier area than the location of your guided walk.This is necessary to protect ourselves and to protect the local and rural communities that we will be walking in.
All trips in 2021 that can't go ahead because of restrictions will be offered the chance to reschedule or a full refund.
To protect ourselves and to maintain social distancing we will travel separately to the start of each walk. Where the walks are in popular destinations we may have to start early to ensure we have a parking space.
On our walk it will be possible to practice social distancing between ourselves and other walkers.
Please ensure sure that each person in your group has access to their own hand sanitizer for the day. Although while we are walking there are minimal touch points, it may be necessary to open gates or use bridges using your hands.
Face masks are not necessary while we are out walking together. However if you feel more comfortable wearing one it's entirely up to you.
For further info contact us at upanddoonguidedwalks@gmail.com