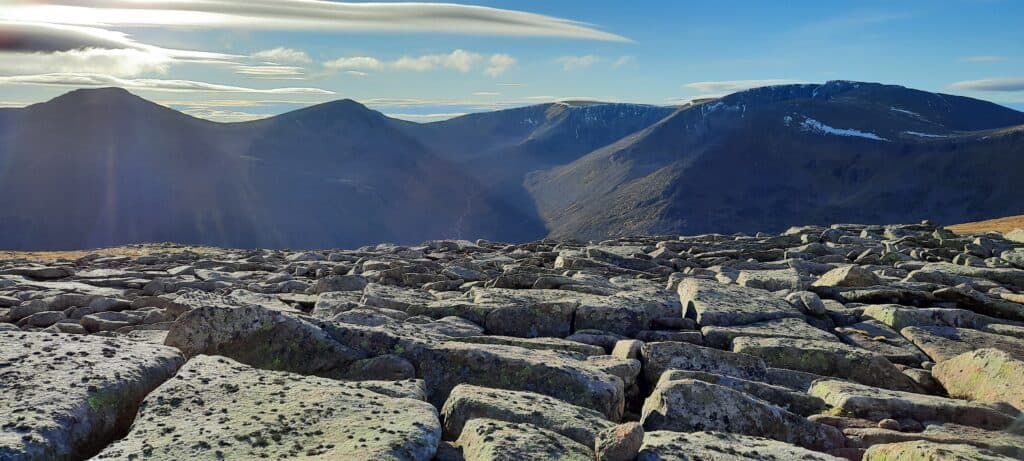 Walk 5 of the Highest Mountains in Scotland
Fancy a challenge for you and your friends? Tick off 5 of the highest Munros in the Cairngorms. These are 5 of the only 9 mountains over 4000ft! We will have 3 days of walking.
Our first day will take us up onto the arctic like Cairngorm Plateau where we will climb Ben Macdui and Cairngorm. Not forgetting to keep an eye out for the Grey Man who reputedly haunts these mountains. It is a good start and the perfect warm up to our trip.
Our next couple of days see's us loading our rucksacks and making our way through the highest mountain pass in the country the Lairg Ghru. Depending on conditions we may camp high but more than likely we will camp in the shadow of the Devil's Point in Glen Dee. Our next day will see us shouldering our packs and heading back over the fine mountains of Cairn Toul, Angel's Peak and Braeriach. A great high level hike we seldom drop below the 3000ft contour as we circumnavigate the Garbh Corrie where the oldest snow field in Scotland is located.


Accommodation can be recommended in the area to suit your budget

A good level of fitness is needed for what is an arduous and challenging few days of hiking. Tents and other equipment can be provided for the expedition.
Coronavirus Precautions And Information
All trips will be subject to the government rules in place at the time of your holiday.
We will have to cancel or reschedule our trip if you are coming from a higher tier area than the location of your guided walk.This is necessary to protect ourselves and to protect the local and rural communities that we will be walking in.
All trips in 2021 that can't go ahead because of restrictions will be offered the chance to reschedule or a full refund.
To protect ourselves and to maintain social distancing we will travel separately to the start of each walk. Where the walks are in popular destinations we may have to start early to ensure we have a parking space.
On our walk it will be possible to practice social distancing between ourselves and other walkers.
Please ensure sure that each person in your group has access to their own hand sanitizer for the day. Although while we are walking there are minimal touch points, it may be necessary to open gates or use bridges using your hands.
Face masks are not necessary while we are out walking together. However if you feel more comfortable wearing one it's entirely up to you.
For further info contact us at upanddoonguidedwalks@gmail.com