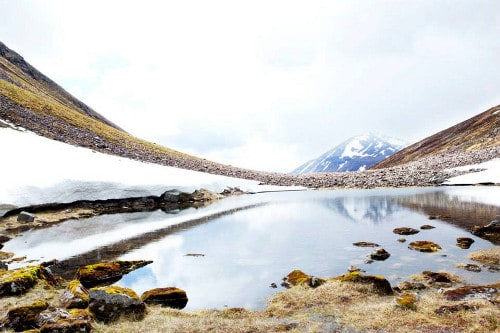 Lairig an Laiogh and the Lairig Ghru
This is a challenging expedition over 4 days into the heart of the Cairngorms National Park. We will meet in the morning in Aviemore. A final check of kit and we shall then make our way by car to the small village of Glenmore on the shores of beautiful Loch Morlich. Starting on our way we will pass through the beautiful pinewoods of Ryvoan to the open moorland and mountain side. A river crossing at the Fords of Avon takes us through the Lairg an Laiogh (pass of the calves) and into the ancient pines of Glen Derry. Our route then takes us round into Glen Dee We will then make our way through the highest mountain pass in the UK the Lairig Ghru and back to Glenmore our final destination. This expedition is on a mixture of well maintained paths and landrover tracks and rough rocky and boggy ground. The scenery is fantastic with delightful rivers,waterfalls,dramatic mountain vistas and ancient woodlands. There will be plenty rest stops and photos stops. We will also have the chance to see wildlife including the Red Deer and the rare Golden Eagle. Tents and other equipment can be provided on request. Good transport links to start and finish of the walk either by rail or bus.
Coronavirus Precautions And Information
All trips will be subject to the government rules in place at the time of your holiday.
We will have to cancel or reschedule our trip if you are coming from a higher tier area than the location of your guided walk.This is necessary to protect ourselves and to protect the local and rural communities that we will be walking in.
All trips in 2021 that can't go ahead because of restrictions will be offered the chance to reschedule or a full refund.
To protect ourselves and to maintain social distancing we will travel separately to the start of each walk. Where the walks are in popular destinations we may have to start early to ensure we have a parking space.
On our walk it will be possible to practice social distancing between ourselves and other walkers.
Please ensure sure that each person in your group has access to their own hand sanitizer for the day. Although while we are walking there are minimal touch points, it may be necessary to open gates or use bridges using your hands.
Face masks are not necessary while we are out walking together. However if you feel more comfortable wearing one it's entirely up to you.
For further info contact us at upanddoonguidedwalks@gmail.com